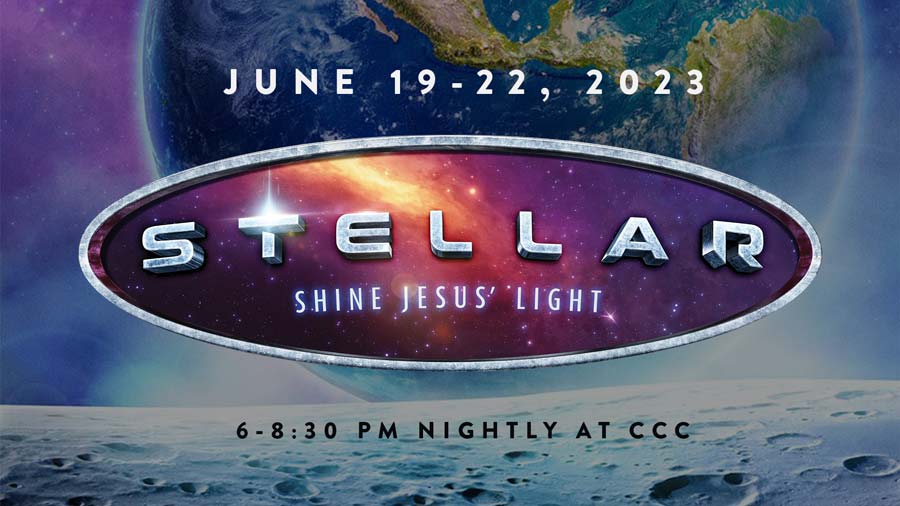 Christ Community Church of the Nazarene is hosting a summer kids' event called Stellar VBS from June 19-22.
School might be winding down, but summer fun is amping up! VBS helps kids connect to new friends and Jesus this summer. Join us June 19-22 as we explore what it means to shine Jesus' light in our galaxy during Stellar vacation Bible school. Every night will be full of incredible music, new friends, amazing experiments, creative games, fun snacks, and surprising adventures.
HEY PARENTS, NEED SOME SPACE?
We've got a Stellar spot for kids June 19-22
Stellar will rocket kids on an out-of-this-world adventure that's lightyears of faith-building fun!
Who: 3 Years through 5th grade (just completed)
What: Four nights of new friends, amazing experiments, creative games, fun snacks, surprising adventures, and incredible music.
When: June 19-22, 6-8:30 pm nightly
Where: Christ Community Church of the Nazarene, 21385 W. College Blvd., Olathe, KS
Register: 2023 VBS--Stellar Registration
At Stellar, kids will discover how they can shine Jesus' love and hope in everyday life! Kids participate in memorable Bible-learning activities, sing catchy songs, play teamwork-building games, make and devour yummy treats, experience one-of-a-kind Bible Adventures, collect Bible Memory Buddies to remind them of Jesus' light, and test out Sciency-Fun Gizmos they'll take home and play with all summer long. Plus, kids will learn to look for evidence of God all around them through something called God Sightings. Each day concludes with a Cosmic Closing that gets everyone involved in living what they've learned.
Want to be a Stellar crew member?
There are many ways for everyone to get involved—decorating, clean up, registration. VBS at Christ Community is free and open to kids 3 years old and potty-trained through those completing 5th grade in May 2023.
Sign up here to be a crew member or a crew leader.