LEARN. GROW. PARTICIPATE.
Kingdom Kids ministry invites children of all ages to know, love, and live for God as they participate in God's Big Story.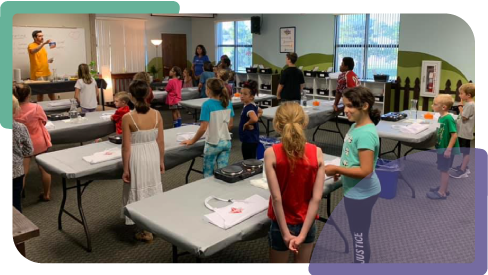 CHILDREN'S MINISTRY MISSION
To reach the kids of tomorrow with the promise and hope of God's love and salvation.
NURSERY
During the entire worship service on Sunday mornings, screened and experienced volunteers provide loving care for infants and toddlers while also teaching them who God is through simple activities and stories. The infant nursery (birth – crawlers) and toddler nursery (1- and 2-year-old walkers) are places where little ones discover that God's family is a great place to be!
PRESCHOOL
During the entire worship service on Sunday mornings, preschoolers (2 and 3 year olds) and Pre-kindergarteners (4 and 5 year olds) are taught to know and love God as they hear God's Big Story during Worship on Sunday mornings. Class time includes prayer, singing, and hands on-activities that help kids apply and interact with Bible stories. Parents receive take-home sheets to guide them in engaging the Bible story throughout the week.
KINGDOM KIDS IN THE CLUBHOUSE
On Sunday mornings at 9:30am, all children in K-5th join their families for the first part of worship. Kids are then dismissed to meet in the Clubhouse and hear part of God's Big Story. In the Clubhouse, children will hear engaging stories from the Bible, then worship and respond in creative ways in smaller age-level groups led by adults.
On the first Sunday of each month, we invite children to take part in the practices that form our community by joining their family for the entire worship experience. Kingdom Kids will not be dismissed to the Clubhouse on Family Worship Sundays.
KINGDOM KIDS UNIVERSITY
On Wednesday nights during the school year, from 6:30-7:30pm, Kindergarten through 5th graders are invited to take their faith to the extreme as they learn to serve as leaders in God's kingdom! The children will prepare to lead the church in worship through musical performances in December and April. Students will develop as leaders as they learn about another culture and glimpse how kids in other parts of the world are living out their faith.
KINGDOM KIDS BIBLE CLASS
On Sunday mornings at 11am, 1st through 5th graders dig deep into God's Word with an intensive study of select books of the Bible. Over the course of 6 years, kids will study Genesis, Exodus, Joshua, Judges, Ruth, 1 and 2 Samuel, Matthew, and the Book of Acts and memorize 20 Scripture memory verses each year! Those who are interested may participate on a team in Bible quizzing competitions several times per year.
PLAN YOUR VISIT
No matter who you are, what your story is, or where you're from, you are welcome here. You don't have to schedule a tour to join us on Sundays. But if you'd like to let us know you're coming, we'll be sure to have greeters prepared to give you a tour before or after the service.