SUPPORT. SERVE. LOVE.
Are you looking to belong to a community of Christ followers? The CCC community is dedicated to fostering a community that supports, serves, and loves one another. We would love for you to be a part of what God is doing in our church by joining us.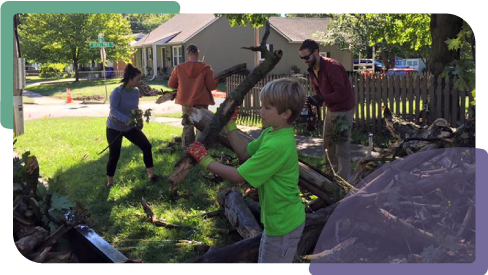 OUR MISSION
We are a community of people, following Jesus and participating in God's restoration story.
Every month, we support a good neighbor in our community. We collect a Good Neighbor Offering and come alongside them to serve.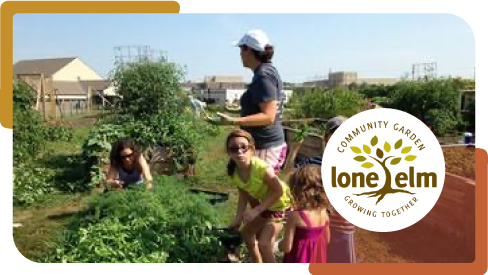 LONE ELM COMMUNITY GARDEN
21385 College Blvd, Olathe KS 66061
Lone Elm Community Garden exists to connect our community to the earth and each other through gardening, hospitality, and education.
Our vision is to serve the surrounding schools, neighborhoods, and larger community by creating a place for families, groups, and individuals to come and experience the miracle of gardening in an inviting environment.
We have 32 allotment gardens:
Twenty: 4'x12' raised beds
Twelve: 10'x20' in-ground beds
Allotment gardens are available at an annual rate.
We also have a quarter-acre communal garden called "Rows for the Hungry." Produce from this section is distributed weekly to the Kansas City Rescue Mission, where it is used to prepare nutritious meals for its clients in the urban core of Kansas City. Produce is also given to local food pantries and the Jewish Community Center in Leawood, KS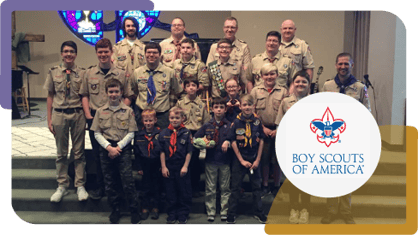 BOY SCOUTS OF AMERICA
Our building hosts local boy scout troop meetings. In so doing we create a safe gathering space for these boys to work on projects, learn skills, and build friendships with one another.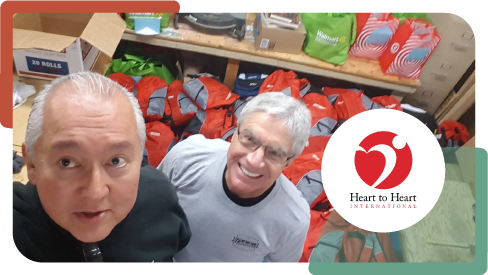 HEART TO HEART INTERNATIONAL
Heart to Heart International seeks to improve healthcare access in the U.S. and around the world by ensuring quality care is provided equitably in medically under-resourced communities and in disaster situations.
The Olathe School District values partnering with the surrounding community. We have formed partnerships with three schools: Meadow Lane Elementary School, Forest View Elementary School, and Olathe Northwest High School.
PRAIRIE LEARNING CENTER
Our other school partner serves students who needs alternative learning opportunities. We serve this by encouraging teachers and administrators. You can also help us serve food to teachers during teacher appreciation week and to students and their families during some special events.
OLATHE SCHOOL DISTRICT PARTNERSHIP
The Olathe School District is intentional about creating community schools with lots of community involvement. One way that happens is all Olathe schools have three partners: a faith partner, a civic partner, and a business partner. Liaisons from these partnerships work together with school administrators to meet the needs of students, teachers, and administrators unmet by the school district.
HEARTLAND EARLY LEARNING CENTER
We partner with both Headstart and the preschool that are housed at Heartland. Our role in these schools is to encourage and care for the teachers and administrators. We send notes of encouragement, serve refreshments on their in service days, and help meet financial and clothing needs of students when other resources are not available.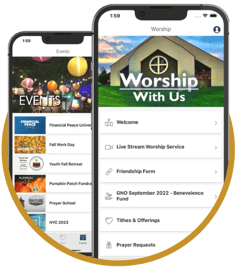 GET OUR MOBILE APP
Our mobile app for Apple and Android allows us to extend the reach of our worship services and connect beyond the walls of our building. With the mobile app, you can view upcoming events, give, read the bible, and more.
SERVICE PROJECT DIRECTORY
Advice & Aids Crisis Pregnancy Center
(913) 962-0200
Clean and more.
Christ Community Church
(913) 829-2626
Paint, yard, and housing improvements for elderly adults and disabled.
City of Olathe Community & Neighborhood Services Housing Rehabilitation
(913) 971-5345
Snow Brigade, paint, house improvements for elderly and disabled residents.
City of Olathe Housing Program
(913) 971-5090
Landscape and playground repairs.
Good Samaritan Center
(913) 782-1372
Play bingo, sing hymn & have devotions with residents; Clean kitchen and floors.
Habitat for Humanity
(816) 483-7700
Various Volunteer services.
Olathe Parks & Recreation
(913) 971-9720
Landscaping and trash pickup.
Olathe Police
(913) 971-7455
Deliver cookies and notes of appreciation.
Olathe Public Library
(913) 764-2259
Various volunteer services.
Salvation Army
(913) 782-3640
Serving meals and other volunteer services.
Temporary Lodging
(913) 764-2887
Activities for boys ages 11-18, supply a wish list, provide homemade meals.
YMCA
(913) 393-9622
Various volunteer services.

CONNECTING THE COMMUNITY
Helping our community experience the love of Jesus through church events and activities.
View All Community Updates
WE'LL SEE YOU ON SUNDAY
No matter who you are, what your story is, or where you're from, you are welcome here. You don't have to schedule a tour to join us on Sundays. But if you'd like to let us know you're coming, we'll be sure to have greeters prepared to give you a tour before or after the service.