LISTEN. BLESS. SUPPORT.
The Bible says that all of creation is awaiting the revealing of the children of God. Our hope is that all creation, especially humanity, will experience liberation and redemption because of who Christ makes us to be. (Romans 8:18ff., Isaiah 65:17ff.) As we listen to our community, we hear their deep needs and respond with Christ's resources (his salvation and our service) to meet those needs.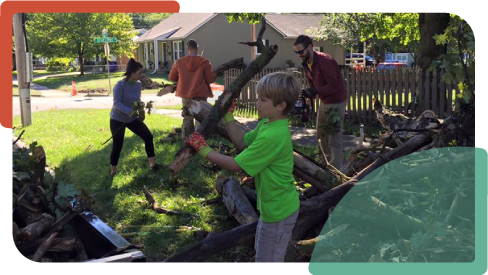 OUR MISSION
We are a community of people, following Jesus and participating in God's restoration story.
CONNECTING THE COMMUNITY
Helping our community experience the love of Jesus through church events and activities.
View All Community Updates
SERVANT LEADERSHIP
The role of leaders in our church is to empower the people of God for ministry
– Ephesians 4:12
INSIDE OUT
The purpose of our church is to move from the inside out. We don't see "church" as an ending point where we want people to arrive, but as a launching pad into the community. That means we practice serving from the inside out. Members of our church are often asked, "Where are you serving?"
UPSIDE DOWN
The role of leaders in our church is to empower the people of God for ministry (Ephesians 4:12). We see our leadership structure as an upside down pyramid. We don't want you to "get under our umbrella" but prefer to see you strengthened by your church for service.
EQUIPPING THE CHURCH
The Missions Team has prepared information to provide discipleship classes, small groups, and individuals with opportunities to participate in community service projects. As followers of Jesus Christ, we are participating in God's restoration story at home, in the region, and around the world.
LOCAL
Boy Scouts of America Pack 3387 & Pack 487, School Partnerships
REGIONAL
Kansas City Rescue Mission, Mission Southside
GLOBAL
Church of the Nazarene Global Missions, Project Honduras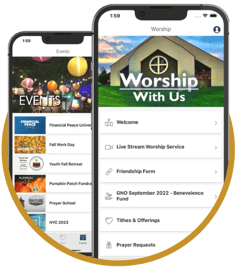 GET OUR MOBILE APP
Our mobile app for Apple and Android allows us to extend the reach of our worship services and connect beyond the walls of our building. With the mobile app, you can view upcoming events, give, read the bible, and more.
WE'LL SEE YOU ON SUNDAY
No matter who you are, what your story is, or where you're from, you are welcome here. You don't have to schedule a tour to join us on Sundays. But if you'd like to let us know you're coming, we'll be sure to have greeters prepared to give you a tour before or after the service.